Each year, employees and fans of Seminole County Public Schools are asked to contribute to the "Give One for the Kids" Employee Giving Campaign. The campaign provides the opportunity to support two organizations – The Foundation for Seminole County Public Schools and Heart of Florida United Way agencies.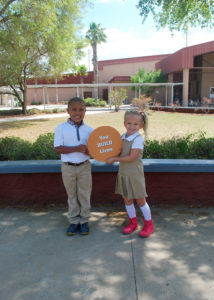 SCPS teachers and district staff donate nearly $100,000 annually to support The Foundation's programs. Those funds provide classroom grants, backpacks and school supplies to students in need, recognition awards for teachers and District employees, and more. They hope that our business partners and community will generously donate as well.
With your gift, the future can be brighter for SCPS students! Be an advocate for our students and for public education. Donations to The Foundation are accepted throughout the year.  Select the Donate Today! button in the upper-right corner of this page to make your contribution, or print out the pledge form and return to our office.  For more information, contact Donor Relations at 407-320-0119.