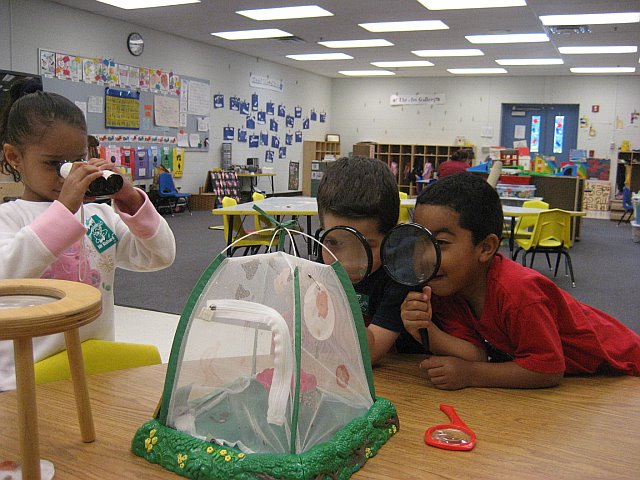 As with most schools across the nation, budgets don't always cover the cost of special projects that actively engage students or provide innovative learning opportunities. Most teachers want to help their students go beyond reading, studying and memorizing and will develop programs that stimulate young minds and enable them to observe, question, get stuck, make discoveries and most of all, achieve!
Since 1989, Seminole County teachers have turned to the Grants for Great Ideas program to support their creative and innovative classroom ideas. With generous support from the program's sponsors, nearly 2,300 grants totaling more than $1.5 Million have been awarded, with the State of Florida matching donations dollar-for-dollar.
Grant awards to classrooms, grade level and school-wide projects provide resource materials and equipment for learning activities the students will remember for a lifetime.
Through the years, students have explored a variety of exciting subjects such as hydrogen-powered engines, the creation of a large-scale diorama of artist Claude Monet's garden and used geometry and the study of angles to design a miniature golf course.
"It made such an impression, not only on their scientific thinking skills, but it has also helped teach the importance of compassion and caring." Pre-K Teacher, Chrysalis Grant Project
For SCPS Educators
Grant applications open at the beginning of each school year. To receive funding early in the school year, teachers should submit requests in August and September. This allows time to order and receive materials and supplies, implement the projects and measure the outcomes.
Grant awards are $500 for classroom projects and up to $1,500 for grade level or school-wide projects.  Some exceptions apply.
All projects must have measurable outcomes and align with the Florida Standards. Applicants are required to review the guidelines for projects and the mandatory reporting requirements and return an acknowledgement form indicating compliance prior to receiving funds if awarded.
2016-17 Grant Application – CLOSED FOR 2016-17 SCHOOL YEAR.
The 2016-17 grant application cycle is open for projects related to literacy, STEM subjects, and the arts.  We do not have funding for Social Sciences and Physical Education.  The 2016 – 2017 application deadlines are:
Cycle I:  Friday, August 12, 2016 (midnight)  CLOSED
Cycle II:  Friday, October 7, 2016 (midnight)  CLOSED
Cycle III: Monday, November 28, 2016 (midnight) CLOSED
Follow these steps to submit an application:
Review the 2016-2017 Grants Program Overview  (Note:  please use your speakers and listen to audio instructions on each page) prior to developing the project to ensure that it will meet evaluation and reporting requirements.
Note:  The online form cannot be saved and accessed later. It's suggested that you print the form and create your content in a Word document, then cut and paste in the online form when you have time and are ready to submit.
Applicants may be notified to participate in a conference call (Dates TBA) in August to review the guidelines prior to the Foundation Grants committee's Cycle I meeting and to address any questions with the applications.
2016-17 Grants for Great Ideas application
Example of previously-funded projects:
Literacy:  13-006 Mohamed, Altamonte Elem
STEM Middle/High:  13-022 Kallin, Milwee Middle
Arts:  13-102Smith, Heathrow Elem
For more information, contact The Foundation Program Manager at 407-320-0196 or foundation@scps.us
2016-17 Grant Projects – Mandatory Reporting
All 2016-17 grant recipients must submit two documents before the end of the year related to their project:
Expenditure Report Form 16-17. Copies of detailed invoices and receipts must be attached to the form. Any unused funds must be returned to The Foundation prior to January 31, 2017.  Review the form for more details.
Reminder: Tax on purchases cannot be paid for with funds received from The Foundation and will not be reimbursed. This will become the responsibility of the school or teacher.
Evaluation Report. Complete and return a detailed evaluation of the project by Monday, May 15, 2017. The evaluation must include answers to the measurable outcomes listed above.
For more information, please contact 407-320-0196 or susan_zettler@scps.k12.fl.us.