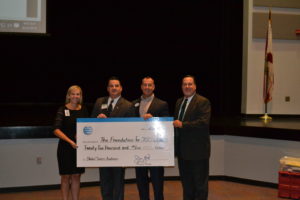 Research shows high school dropouts will earn $200,000 less than a high school graduate and almost a million dollars less than a college graduate over a lifetime. In an effort to continue preparing Seminole County Public Schools (SCPS) students for graduation and successful futures, The Foundation for SCPS (The Foundation) is excited to announce a $25,000 contribution from AT&T Aspire to support SCPS Success Academies.
Success Academies focus on accelerated credit retrieval that allows students to catch up and graduate with their peers. Together, The Foundation and AT&T Aspire will continue to work towards their shared goal of empowering students to reach their full potential. The grant will provide ACT and SAT prep materials, tutorial software, workshops to develop interviewing, resume writing and other soft skills, as well as recognition events to celebrate student achievement and motivate continued success.
Since piloting the program in 2014, cumulative grade point average of students enrolled in a success academy have risen from a 1.7 to a 2.1. Student attendance, which was a major barrier to success prior to enrollment, has improved drastically to 90% of students meeting attendance goals.
"Without this program, I don't think I would have graduated," said Steven Rodriguez, program participant. "The program is great for catching up on work. It is a good classroom setting for seniors to be able to work together with peers and teachers alike towards one common goal of graduation and a brighter, more encouraging future."