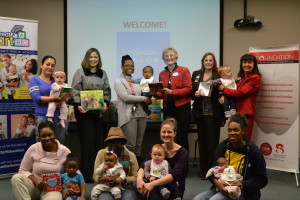 As part of their mission to help people and communities achieve better health, Florida Blue has donated $25,000 to support Great Start…Pathways to Success.
Research suggests 90% of the core brain structure is formed within the first five years of life. Recognizing the importance of child development during these years, Seminole County Public Schools (SCPS) launched Great Start…Pathways to Success. The program is designed to provide Seminole County parents of babies, birth to three, information and guidance on child development.
New parents receive a gift bag in the hospital which contains books, a developmental milestone calendar, a resource directory, and other helpful information. Great Start promotes parent education and helps parents develop essential early literacy skills in their children. Various playgroups are offered throughout the year at the Educational Support Center, The Health Department, The Early Learning Center in Sanford, and the Crisis Pregnancy Centers in Sanford and Oviedo.
"Education and literacy are crucial to the future health of a child and a community. We're proud to support Great Start to encourage parental education and help instill the importance of early literacy skills," says Tanya Easterling, Florida Blue Sr. Market Development Manager.
Florida Blue funding will provide books and other educational materials on babies and toddlers. For more information on how to get involved, visit Great Start.
ABOUT FLORIDA BLUE
Florida Blue, Florida's Blue Cross and Blue Shield company, is a leader in Florida's health care industry. Driven by its mission to help people and communities achieve better health, Florida Blue has more than 4 million health care members across the state. An additional 15.5 million people in 16 states are served through its affiliated companies. Headquartered in Jacksonville, Fla., Florida Blue is an independent licensee of the Blue Cross and Blue Shield Association, an association of independent Blue Cross and Blue Shield companies. For more information, visit www.floridablue.com.