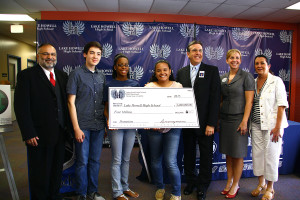 We are excited to announce the groundbreaking ceremony and celebration for the new Lake Howell High School (LHHS) Aquatic Center on Friday, October 16, 2015 at 6 p.m.
Guest speakers of the ceremony will include Superintendent Dr. Walt Griffin, LHHS Principal Frank Casillo Jr., Aquatic Center architect and builder, and several students.
The LHHS Aquatic Center was made possible by a generous Lake Howell alumnus after donating $4 million to  the school for the Aquatic Center and other school improvements. The alumnus wished to stay anonymous. The center will include 2 pools; a main pool which will consist of 8, 50 meter lanes and an auxiliary warm up pool that will be 25 meters long and 4 lanes wide. The auxiliary warm up pool will hold swim lessons that will be offered to the community. The Aquatic Center facilities will also include bleachers and an elevated grass berm for spectators, locker rooms, a classroom, concessions, offices, restrooms, storage and 2 beach volleyball courts.
Click here to view invitation.