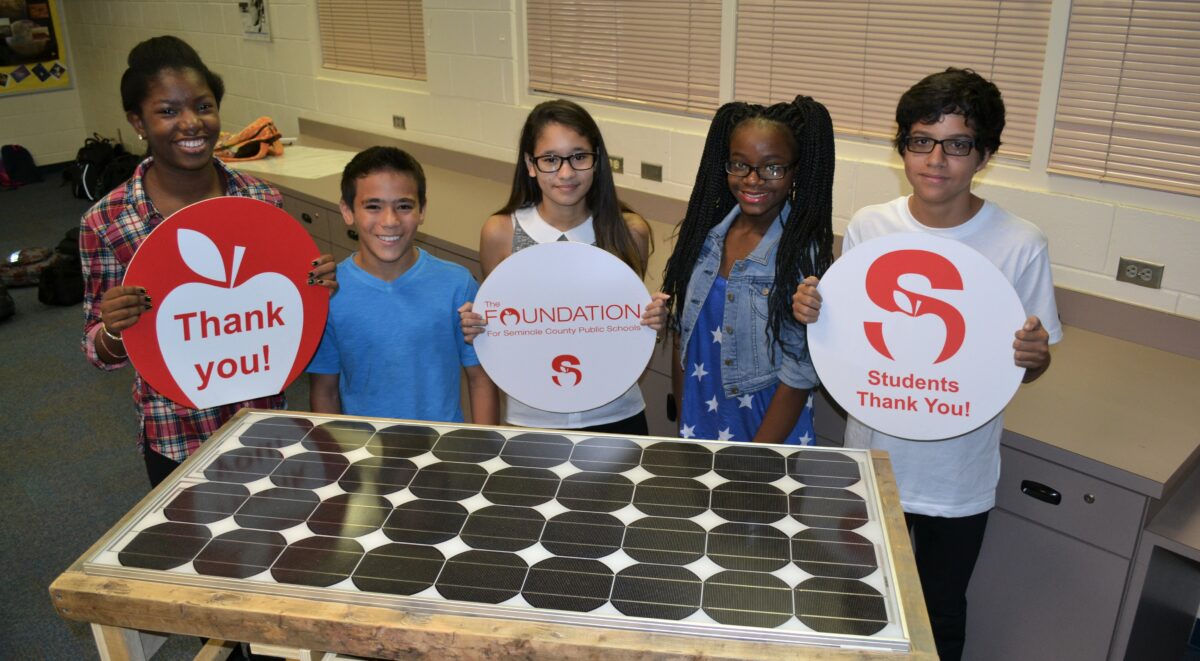 Supporters
Investing in our children's education benefits us all.
We could not impact K-12 academic advancement in Seminole County Public Schools without the
support, involvement and contributions of our donors. Thank you!

July 1, 2020 – June 30, 2021
CAREER CHAMPIONS ($100,000 +)
School District Education Foundation Matching Grant Program State of Florida
Seminole County Board of County Commissioners
State of Florida
Take Stock in Children
XQ Institute
GRADUATE SUMMA CUM LAUDE ($50,000 – $99,999)
GRADUATE MAGNA CUM LAUDE ($25,000 – $49,999)
AAA
Addition Financial
Duke Energy Foundation
Modern Plumbing Industries, Inc.
SCPS Employee Benefits and Wellness
Seminole County Sheriff's Office
GRADUATE CUM LAUDE ($10,000 – $24,999)
Arnold Nussbaum
Cigna
Dede Schaffner
Douglas G. Halliday Foundation
Florida Blue Foundation
Hartford Fire Insurance Company
Heathrow Womens Club Charities
IOA (Insurance Office of America)
Karen Almond
Orlando Health – South Seminole Hospital
Orlando North, Seminole County Tourism
Orlando Regional Realtor Association
Philip S. Harper Foundation
Southstate Management Corporation
Stan & Kim Van Gundy
The Ryan Foundation
Universal Orlando Foundation
Verizon
Wayne Densch Charitable Trust
Wharton-Smith, Inc.
GRADUATE ($5,000 – $9,999)
Ali's Hope Foundation, Inc.
Andrew & Dorothy Cochrane Foundation
Anne Warmser
APM Cares, Inc.
Bergeron Framing, Inc.
Crooms Business Advisory Council
David McDaniel
Integra Land Company
Mark Construction Co.
Matern Professional Engineering
No Limit Health and Education
Northrop Grumman
Seminole County Youth Commission
Sherril Bracco
Siemens Energy, Inc.
The Chesley G. Magruder Foundation
United Data Technologies
Veritas, Inc.
Walmart—Florida
PRINCIPAL'S LIST ($2,500-$4,999)
Agitech Solutions, Inc.
AmWINS Group, Inc.
Amy Jennings
Tim & Amy Pennock
Anthony Marini
Christopher A. Rawle
Clancy & Theys Construction Co.
DACG, Inc.
Desmond Reilly
First Baptist Church of Oviedo
Foundation For Seminole State College
Gilbane Building Company
Hylant Group
Les Miller
Michael & Lisa Mang
Paul & Paula Dawson
Publix Supermarkets Charities, Inc.
Ram K. Sundeep
Rotary Club of Seminole County South
Suburu North Orlando
TECC, Inc.
The Henry Family Foundation
Vertas Recruiting Group, LLC
Walt Griffin
WELBRO Building Corporation
SUPERINTENDENT'S CIRCLE
Karen Almond
Susan Anderson
Sharon Arroyo
John Ashworth
Serita Beamon
Patrick & Kris Buchanan
Prasad Chittaluru
Tara Christensen
Darin Crafton
Patricia D'Alessandro
Paul & Paula Dawson
Sesha & Syamala Dhanyamraju
Suzanne Dusch
Tanya Easterling
Walt Griffin
Dr. Eve Homburger & Brad Jacobs
Boyd & Heidi Karns
Kristine Kraus
Shane & Danielle Larson
Brian Luc
Scott Macaione
Michael & Lisa Mang
Tiffany Pratt
Heath Ritenour
Brian D. Sackett
Dede Schaffner
Richard and Karen Sweat
Dona Tannler
Monica Tipirneni
Stan & Kim Van Gundy
Jean & Aaron Vansmith
Veritas Recruiting Group, Inc.