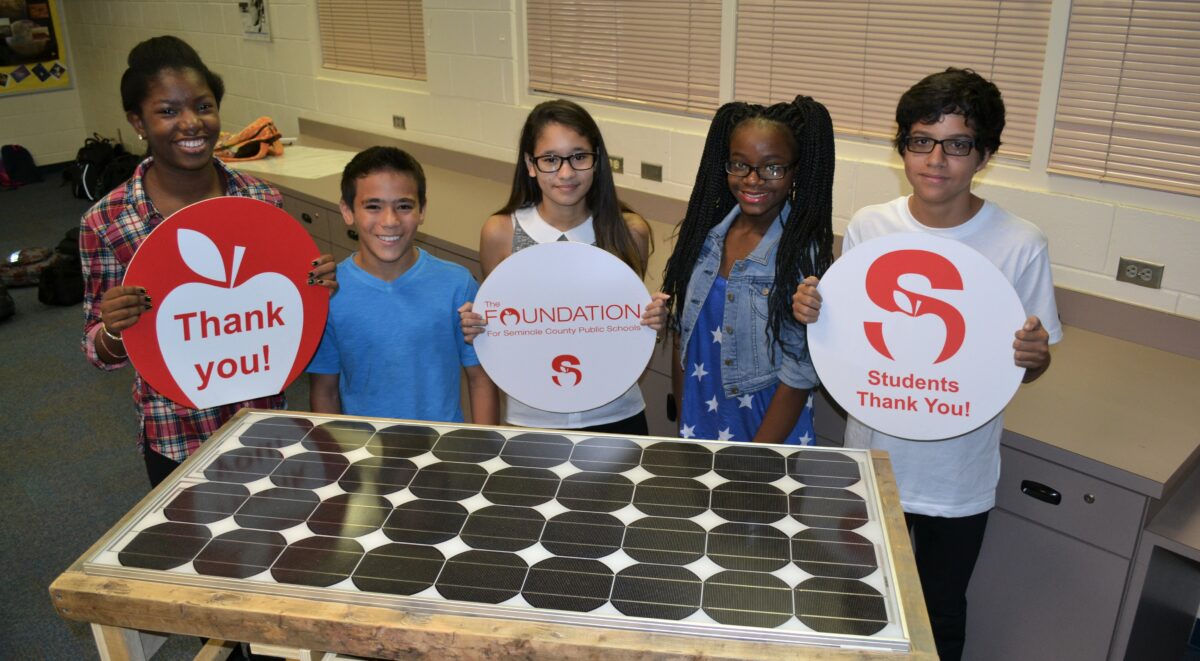 Supporters
Investing in our children's education benefits us all.
We could not impact K-12 academic advancement in Seminole County Public Schools without the
support, involvement and contributions of our donors. Thank you!

 July 1, 2021 – June 30, 2022
CAREER CHAMPIONS ($100,000 +)
GRADUATE SUMMA CUM LAUDE ($50,000 – $99,999)
GRADUATE MAGNA CUM LAUDE ($25,000 – $49,999)
Prasad Chittaluru & Shri Varadarajulu
I4 Ultimate
Darvin & Chris Boothe
GRADUATE CUM LAUDE ($10,000 – $24,999)
The Ryan Foundation
AAA
Arnold Nussbaum
The John & Beverly Sobik Help Foundation
Karen Almond
IOA (Insurance Office Of America)
Heathrow Women's Club Charities
Douglas G. Halliday Foundation
The Father's Table Foundation
SCPS Employee Giving
Wharton-Smith Inc
Philip S. Harper Foundation
Wayne Densch Charitable Trust
Sanford Lodge 1241
Dede Schaffner
Verizon
Seminole County Board of County Commissioners
HCA Florida Lake Monroe Hospital
Andrew & Dorothy Cochrane Foundation
Advent Health
GRADUATE ($5,000 – $9,999)
Robert G. Intille
Ali's Hope Foundation
Matern Professional Engineering
Clancy & Theys Construction, Co.
Sanford Porchfest Corporation
Charity Challenge
MFI Holdings, LLC
Mark Construction Co.
Publix Supermarkets Charities, Inc.
Crooms Academy Of I.T.
Omni Hotels & Resorts
Veritas Recruiting Group, LLC
Veritas Technologies
EPIC Engineering & Consulting Group, LLC
Oviedo Medical Center
HCA Healthcare Physician Services Group
Bergeron Framing Inc
Cisco Systems
Chip Lane
PRINCIPAL'S LIST ($2,500-$4,999)
Agitech Solutions, Inc.
Hylant Group
Fast Signs of Sanford/Lake Mary
Michael & Lisa Mang
The Foundation For Seminole State College
TECC, Inc.
AmWINS Group Inc.
WELBRO Building Corporation
United Data Technologies
Seminole Uniserv
DACG Inc.
Dr. Eve Homburger & Brad Jacobs
VyStar Credit Union
Allen, Dyer, Doppelt + Gilchrist, PA
Equitable Advisors
Fortinet
Desmond Reilly
Zach Stevenson
University Of Central Florida
CPH
Massey Services Inc.
Subaru North Orlando
Susan Anderson
Danton Hydroblasting, LLC
Southern Acoustics, Inc
Citizens Bank
The J. Raymond Construction Corp.
SUPERINTENDENT'S CIRCLE
Karen Almond
Sharon Arroyo
John Ashworth
Serita Beamon
Prasad Chittaluru & Shri Varadarajulu
Tara Christensen
Darren Cunningham
Patricia D'Alessandro
Tanya Easterling
Michael Good
Dr. Walt Griffin
Christina Hollerbach
Chris Huff
Dr. Eve Homburger and Brad Jacobs
Mark & Roxane Jager
Kristine Kraus
Jason & Janet Leclair
Brian Luc
Scott Macaione
Michael & Lisa Mang
Gerry Marino
David McDaniel
Les & Rhonda Miller
Shawn & Susan Molsberger
Erin O'Donnell
Tim & Amy Pennock
Heath Ritenour
Dede Schaffner
Richard & Karen Sweat
Dona Tannler
Stan & Kim Van Gundy
Jean Vansmith
Veritas Recruiting Group, LLC
Chris & Leslie Walden
Brian Wright