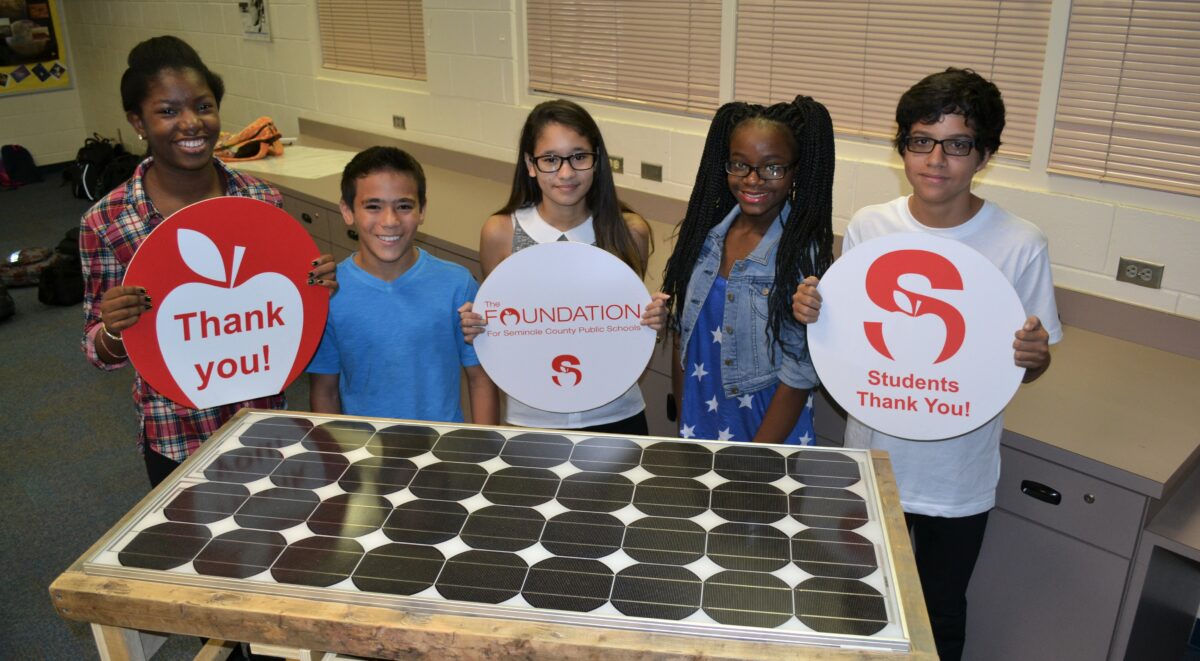 Supporters
Investing in our children's education benefits us all.
We could not impact K-12 academic advancement in Seminole County Public Schools without the
support, involvement and contributions of our donors. Thank you!

July 1, 2019 – June 30, 2020
CAREER CHAMPIONS ($100,000 +)
School District Education Foundation Matching Grant Program State of Florida
XQ Institute
GRADUATE SUMMA CUM LAUDE ($50,000 – $99,999)
Duke Energy Foundation
Florida Blue Foundation
Take Stock In Children
GRADUATE MAGNA CUM LAUDE ($25,000 – $49,999)
Addition Financial
Cigna
Fairwinds Credit Union
Florida Prepaid College Foundation
Jeunesse Kids Foundation
Lockheed Martin
SCPS Risk Management and Wellness
Seminole County Sheriff's Office
Suntrust Foundation
Universal Orlando Foundation
GRADUATE CUM LAUDE ($10,000 – $24,999)
AAA
Karen Almond
Andrew & Dorothy Cochrane Foundation
Douglas G. Halliday Foundation
Heart of Florida United Way
Heathrow Women's Club Charities
Insurance Office of America (IOA)
Modern Plumbing Industries, Inc.
Orlando Health – South Seminole Hospital
Philip S. Harper Foundation
The John & Beverly Sobik Help Foundation
The Ryan Foundation
Troy Antonik
United Global Initiative
Verizon
Wayne-Densch Charitable Trust
Wharton-Smith, Inc.
GRADUATE ($5,000 – $9,999)
Sherril Bracco
Carroll McKenney Foundation for Public Media, Inc.
Central Florida Auto Dealers Association, Inc.
Central Florida Regional Hospital
Chelsey Magruder Foundation
Clancy & Theys Construction Co.
DACG Inc.
HCA Healthcare Physician Services Group
Hylant Group
Jessica Koulianos
KEMCO Industries, LLC
Matern Professional Engineering
No Limit Health and Education, Inc.
Oviedo Medical Center
Publix Super Markets Charities, Inc.
Dede Schaffner
Scholastic Book Fairs
Seminole County Board of County Commissioners
Seminole County Prayer Breakfast
The Henry Family Foundation
United Data Technologies
WELBRO Building Corporation
Wells Fargo Foundation
PRINCIPAL'S LIST ($2,500-$4,999)
Advent Health
AFLCLC
Agitech Solutions, Inc.
AmWINS Group Inc.
Susan Anderson
Sharon Arroyo
Alvin D. Boothe
CareSpot
Charity Challenge
CORE Construction Services of Florida, LLC
CPH Engineers
Patricia D'Alessandro
Paul & Paula Dawson
DKR Property Management, LLC
Dr. Phillips Charities
EPIC Engineering & Consulting Group, LLC
Finastra
Foundation for Seminole State College
Gomez Construction
Harris School Solutions
HP, Inc.
JTO Contracting, Inc.
Mark Construction Co.
Mastro Subaru
Michael & Lisa Mang
Ralph Morris IV
Next Horizon
Northrop Gunman
Private Wealth Management at Heathrow
Pro-Spec
Rotary Club of Seminole County South
Seminole County Tax Collector
Seminole Uniserv
SGM Engineering, Inc.
TECC, Inc.
True Health
University of Central Florida
Stan & Kim Van Gundy
Veritas Technologies
SUPERINTENDENT'S CIRCLE
Karen Almond
Sharon Arroyo
John Ashworth
Serita Beamon
Prasad Chittaluru
Patricia D'Alessandro
Paul & Paula Dawson
Suzanne Dusch
Walt Griffin
Eve Homburger & Brad Jacobs
Boyd & Heidi Karns
Shane & Danielle Larson
Jason & Janet Leclair
Brian Luc
Scott Macaione
Michael & Lisa Mang
Ralph Morris IV
Tiffany Pratt
Richard Read
Tina Regan
Heath Ritenour
Brian Sackett
Dede Schaffner
Leah Schriver
Richard & Karen Sweat
Monica & Kiran Tipirneni
Jean & Aaron Vansmith
Veritas Recruiting Group, LLC