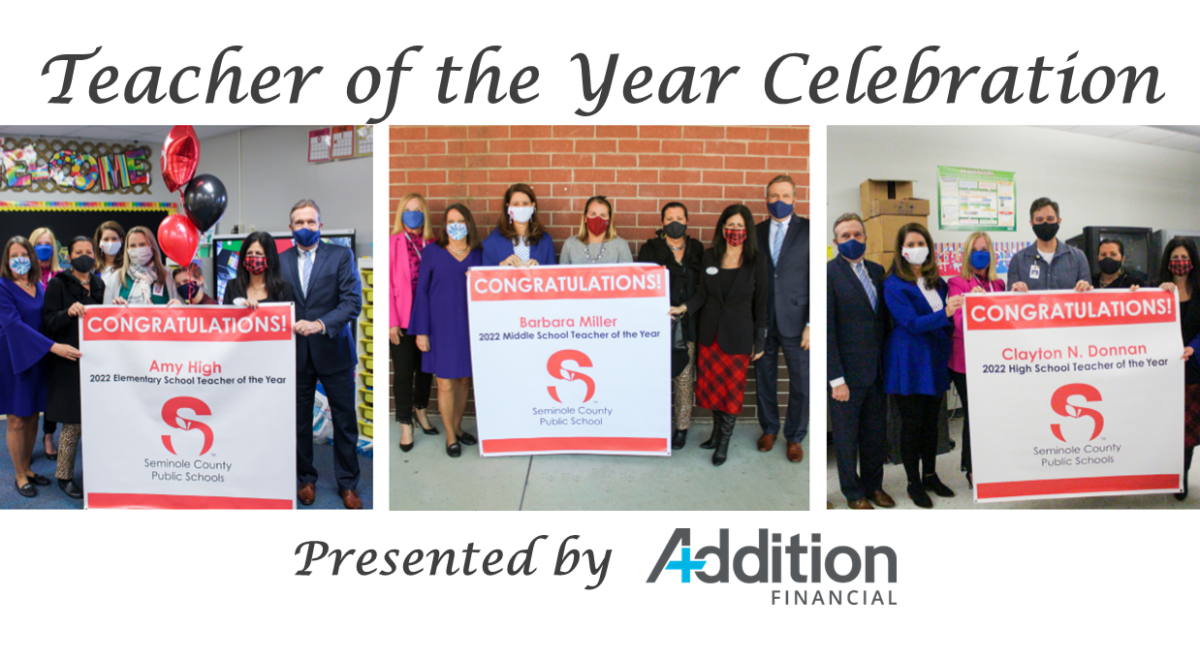 The past year has been one of the most challenging times in education but yet teachers are rising up to help students succeed.
On Friday, February  5, 2021, SCPS will be hold our annual Teacher of the Year Celebration to honor the best and brightest of our Seminole County educators. While this year's event will be held virtually, it will still be a celebration that showcases each of our SCPS Teachers of the Year who stepped up during a year like no other. The district will also announce the district-wide winner who will go on to represent Seminole County Public Schools in Tallahassee and be considered for the State of Florida's Teacher of the Year. Our Teachers of the Year will get to share this honor and memorable experience with their peers, family, friends, and SCPS leadership.
We're thankful to have Addition Financial join us as the Presenting Sponsor for the eighth consecutive year. "Addition Financial is proud to be the Presenting Sponsor of the Seminole County Public Schools Teacher of the Year Awards. As a credit union founded by educators, we understand firsthand that shaping our future begins in our schools," said Kevin Miller, President/CEO of Addition Financial Credit Union. "We look forward to celebrating the hard work and dedication of our Seminole County teachers through even the most challenging of times."
The Foundation is proud to support this district event that celebrates these amazing teachers who keep our A-rated school district going strong!
Are you interested in getting involved in our Teacher of the Year Celebration?
Learn more
 about all the ways to get involved or call 407.320.0119.