The Foundation received $12,500 from CFE Federal Credit Union on February 27, 2018 thanks to everyone who used their SCPS debit cards in 2017. In total, the Foundation has received $126,000 since the program began in 2009 to benefit the students and teachers of Seminole County Public Schools.
Remember, every time you use your CFE SCPS debit card, a donation goes to the Foundation.
Thank you CFE!
Don't have a SCPS debit card?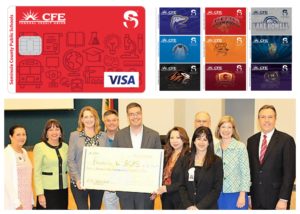 Click here to find out how to get yours today.