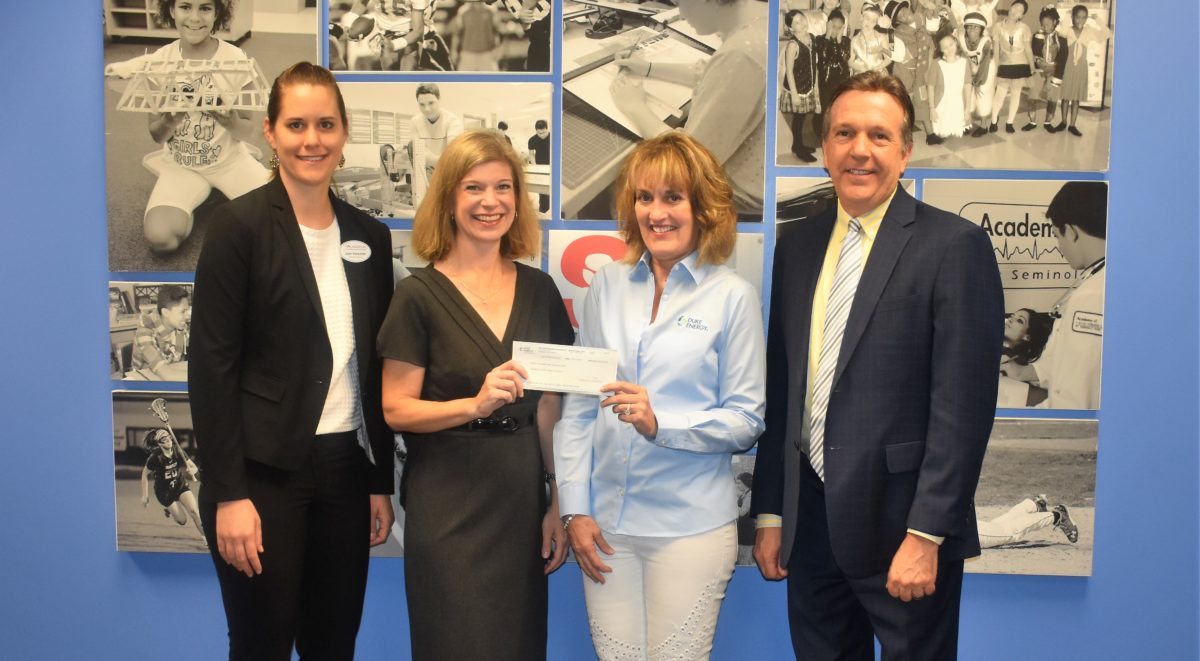 (Sanford, Fla.) June 1, 2018 – The Duke Energy Foundation is again funding innovative classroom learning across Seminole County Public Schools with a $40,000 grant. This funding supports programs of The Foundation that benefit students of all grades in the areas of science, technology, engineering and math (STEM).
The continuous support from Duke Energy is allowing SCPS to offer STEM opportunities through The Foundation's Grants for Great Ideas program, which funds classroom projects. This year, one of the projects funded was at Winter Springs High School. The school received funding to implement a Renewable Energy Program. Grant recipient David Johnson said this "will allow students to maximize their academic progress and drive them towards careers in construction, engineering, manufacturing and other related sciences." In addition to building updated solar golf carts and constructing a working solar thermal system, high school students travelled to area schools like Keeth Elementary to host a Renewable Energy Day. This day is meant to inspire and educate students about solar energy, wind power, hydrogen fuel cells, and alternative transportation by conducting renewable energy activities.
Programs like these are sparking a love for STEM in boys and girls in Seminole County Public Schools. This support is especially targeted to our students attending schools with high free and reduced lunch recipient populations. These efforts are meant to bring STEM to underrepresented groups and empower more students to consider STEM possibilities for their future. Thanks to a matching funds program from the Consortium of Florida Education Foundations, Duke Energy will be able to increase its impact in our community.
"I'm proud to say our education and workforce development grant cycle is the largest investment we make in the state each year," said Harry Sideris, Duke Energy Florida president. "It demonstrates our commitment to the future of our communities, including Seminole County, by preparing our students to become industry leaders and enabling and empowering a qualified workforce to meet the needs in high-demand fields."
Duke Energy's dedication to developing the STEM leaders of tomorrow is clear. Since 2005, Duke Energy has granted more than $565,000 to The Foundation for Seminole County Public Schools and supported various programs and events