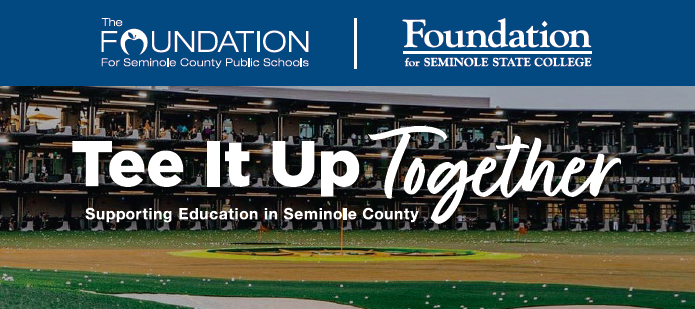 Tee It Up Together is an all-new event supporting education in Seminole County set for April 4, 2022 at Topgolf Lake Mary. The Foundation for Seminole State College and The Foundation for Seminole County Public Schools are coming together for a joint golf event that will benefit both of their missions.
Education is the pathway for tomorrow's future. The Foundation for Seminole County Public Schools and the Foundation for Seminole State College raise nearly $8 million annually to support education efforts in our community. This would not be possible without the support of local businesses and individuals.
With the continuous change and innovation that came from the past year, it is time to come together as a community and show a great push for education! Priorities from each foundation expand throughout the community and across disciplines, including removing barriers to learning, improving student performance, investing in our educators, and providing the best learning experiences.
"Joint philanthropy is rare, and this new event is perfect to bring supporters of Seminole County Public Schools and Seminole State College together in a fun, unique day of golf." shared Dr. John Gyllin, Vice President, Resource and Development, and Executive Director, Foundation for Seminole State College of Florida. "What an exciting opportunity to support the educational system in Seminole County."
Jean Vansmith, Executive Director of The Foundation for Seminole County Public Schools added "We're excited to see our community join together for this one-of-a-kind golf event that is set to be a premier event in Seminole County. And the best part is that all funds raised will support students from early learning through higher learning."
In the spirit of coming together, Addition Financial and Insurance Office of America, longtime supporters of each Foundation will continue as Presenting Sponsors of this new event.
"IOA is excited to be a part of such a wonderful event that supports education. IOA is a generational business therefore investing in the education for the future generation is one of our strongest passions," notes Heath Ritenour, Chairman & CEO of Insurance Office of America.
Kevin Miller, President/CEO of Addition Financial adds, "Addition Financial is pleased to sponsor the Tee It Up Together golf event, which brings together two of our incredible partners. By supporting education and working alongside Seminole State College and Seminole County Public Schools, we can help shape a positive future for our community."
To learn more about ways to get involved, visit the bidpal.net/teeituptogether.