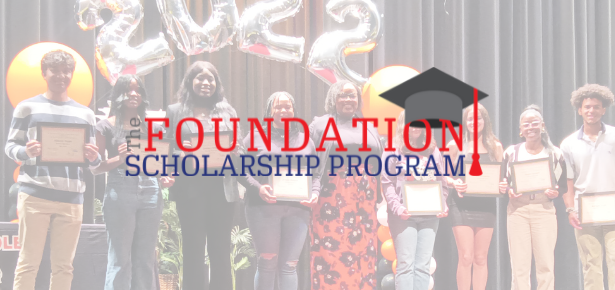 Thanks to our donors, The Foundation is excited to announce that we awarded over $64,000 in scholarships to 43 high school seniors!
These scholarships are privately funded by individuals and the business community and are designed for students planning to attend community colleges, 4-year colleges and universities, or vocational-technical programs throughout the country.
New this scholarship season was:
New Foundation Impact Scholarships available to one student at each of the 10 high schools
Several career related scholarships for programs such as nursing, trade programs, engineering, and the arts.
New Dr. Walt Griffin Scholarship Fund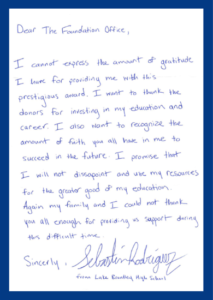 The opportunity to receive a scholarship really does make a difference to our students. One recipient wrote in a thank you letter, "I want to thank the donors for investing in my education and career. I also want to recognize the amount of faith you all have in me to succeed in the future." Thank you to our generous donors who make this such an impactful experience for our seniors! We hope to continue growing this program each year.
If you are interested in establishing a scholarship fund in memory of a loved one, to leave your own legacy, or through your organization to show commitment to the community, please e-mail the Foundation Program Manager or call 407.320.0119
Scholarships Presented to the Class of 2022 throughout the District 
Joe Tramell Memorial Scholarship – $5,000
Joe Tramell Memorial Scholarship – $5,000
Frank J. Bracco Memorial Scholarship – $2,500
Frank J. Bracco Memorial Scholarship – $2,500
The Dr. Walt Griffin Scholarship Fund – $2,500
The Dr. Walt Griffin Scholarship Fund – $2,500
The Sanford Porchfest Arts Scholarship – $2,500
The Sanford Porchfest Arts Scholarship – $2,500
Kuiper Scholarship – $2,000
The Foundation Impact Award: Crooms – $2,000
The Foundation Impact Award: Hagerty – $2,000
The Foundation Impact Award: Lake Brantley – $2,000
The Foundation Impact Award: Lake Howell – $2,000
The Foundation Impact Award: Lake Mary – $2,000
The Foundation Impact Award: Lyman – $2,000
The Foundation Impact Award: Oviedo – $2,000
The Foundation Impact Award: Seminole – $2,000
The Foundation Impact Award: Winter Springs – $2,000
The Elizabeth Schlemmer Scholarship Fund – $1,200
Pai Family Fund Scholarship – $1,050
Almond Family Scholarship – $1,000
Almond Family Scholarship – $1,000
Anthony J. Hall Midway Scholarship – $1,000
Bill Vogel AAA Scholarship Award – $1,000
Bud Layer Memorial Scholarship – $1,000
Eloise Good Scholarship – $1,000
Hagerty Family Scholarship – $1,000
Mickey Yasko Academic and Athletic Excellence Scholarship – $1,000
Raymond Gaines Scholarship – $1,000
The Boothe "Meet the Challenge" Scholarship – $1,000
The Chetana Memorial Scholarship – $1,000
The Colonel J. Nardo Scholarship Fund – $1,000
Arnie Lee Nussbaum Scholarship for Nursing – $500
Arnie Lee Nussbaum Scholarship for Nursing – $500
Bill Scott Scholarship – $500
Carlton Henley Scholarship – $500
Dr. Vogel Scholarship – $500
Edward Blacksheare Scholarship – $500
Sam Momary Scholarship – $500
Sam Momary Tradition of Excellence Scholarship – $500
Sam Momary Tradition of Excellence Scholarship – $500