Thank you to the Universal Orlando Foundation for their $36,000 donation! These funds support our  Families in Need (FIN) program and go toward services to our homeless and low-income students in the form of emergency basic needs (clothing, shoes, food, hygiene items), transportation assistance, school supplies, vouchers for school physicals and immunizations, payment for extracurricular activities, school field trips, and senior cap & gown fees so students can have the full, enriching school experience.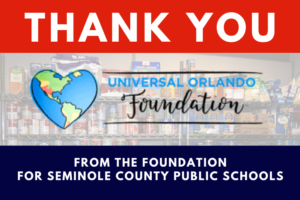 Last summer, Universal launched a program in their parks where guests could choose to "round up" their purchase for charity. Dollars raised through this program go to the Universal Orlando Foundation to specifically support organizations focused on youth.
Thank you Universal Orlando for supporting our families in need through The Foundation for Seminole County Public Schools!