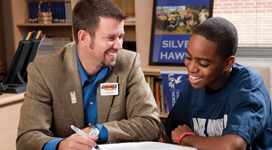 To improve student achievement in Seminole County Public Schools by:
raising and distributing funds and in-kind donations;
fostering involvement in schools by business and the community;
providing recognition and rewards for outstanding contribution to, and performance within, the school district.
The Foundation is a non-profit 501(c)(3) organization that raises funds to further enhance the superior performance of students and teachers in Seminole County Public Schools.
Any business or individual that would like to support the programs sponsored by The Foundation for Seminole County Public Schools is invited to contact the Executive Director at 407-320-0176.