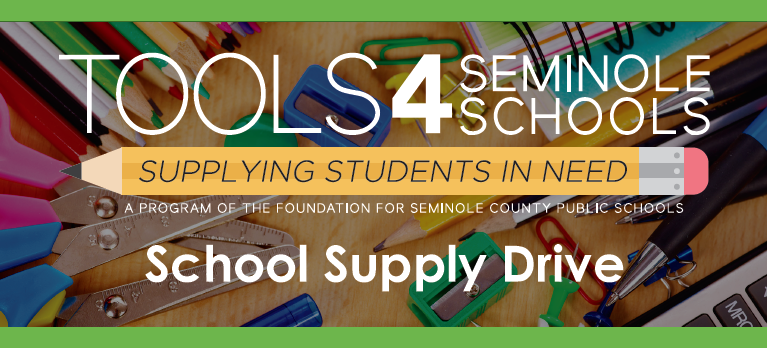 Our Tools 4 Seminole Schools' Annual Supply Drive officially begins July 8th and runs through September 30th. Whether you want to host a summer team builder, help us start the school year in August, or wait until the clearance sales at local retailers in September, you'll be providing essential school supplies to keep our shelves stocked all year long.
To find out how you can support Tools 4 Seminole Schools and the students and teachers of Seminole County Public Schools, please check out our T4SS Supply Drive Toolkit or call 407.320.7768.
Can't do a supply drive? There are still ways to show your support!
Consider a donation to Tools 4 Seminole Schools. Just a $10 donation can provide over $100 in supplies for children in need.
Visit any Publix in Seminole County July 31st through August 11th to participate in the "Tools for Back to School" campaign. By contributing $5 or more, you'll help provide much needed school supplies to Tools 4 Seminole Schools, plus, you'll receive a free reusable bag!

About Tools 4 Seminole Schools
Tools 4 Seminole Schools, a program of the Foundation, offers Seminole County Public Schools' teachers an opportunity to "shop" for classroom supplies and materials at no cost to them.
Dedicated teachers often spend as much as $1,000 of their own money buying supplies for their students and materials for their classrooms. Over half of Seminole County's student population qualify for the free or reduced meals program, making the need for help district-wide. Families are struggling to provide the basics, meaning many times their household budgets do not cover backpacks and school supplies. Our store collects, stores and distributes school supplies and classroom materials to help alleviate this burden from teachers and low-income parents. The store has everything from pencils, crayons, notebooks and even underwear. Our goal is to ensure all students have the supplies needed to be in school ready to learn.
The store is funded through The Foundation and primarily supported by grants, corporate giving, individual donors and our annual supply drive every summer. Local businesses, community organizations and individuals collect thousands of schools supplies to keep the shelves stocked all year long.