Teachers often spend as much as $500 of their own money…some probably more…buying supplies for their students and materials for their classrooms. Over half of Seminole County's student population qualifies for the free or reduced meals program. The need for help is district-wide.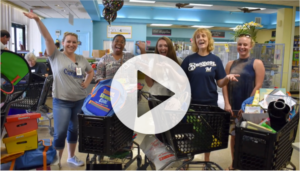 Tools 4 Seminole Schools collects and distributes school supplies and classroom materials to help alleviate this burden from teachers and low-income parents. The store has everything from pencils, notebooks, crayons and glue to tissues, socks and underwear… whatever is needed for students to be in school, ready to learn.
Teachers "shop" for free and select what they need – and what their students' need.
Attention teachers! 
We are excited to announce that we are adding 8 schools to our monthly program next year!! All self-contained classroom teachers from the following schools will be added to our current 22 monthly schools!!!
Bear Lake Elementary
Layer Elementary
Tuscawilla Middle School
Teague Middle School
Seminole 9th Grade Center
Seminole High School
Lyman High School
Lake Howell High School
Therefore, we will have 30 total schools on our monthly program for 2023-2024!
The following will take affect for next year.
Teachers will make appointments to shop. It will be an easy process through the website. More details to follow. The plan is to go live by July 10, 2023. Please visit the SCPS insider at Foundation Resources and the T4SS page for details.
Representative schools will receive 10 coupons per month for 10 single shops. Each school will be sent the coupons, up to administration who gets the coupons. You will need to make an appointment to shop.
2023-2024 EARLY shop dates – August 5, August 8, August 9.
As we work through the process, we will continue to communicate through our website, apple bytes, the Insider, and each school's administration.

How You Can Help
Participate in a School Supply Drive. Our Summer School Supply Drive will run July 10 – September 10, 2023. You can host a traditional supply drive or try our new virtual supply drive option. Our goal is to keep our shelves stocked all year with new school supplies, but we need support from the community.
Donate to Tools 4 Seminole Schools. Tools 4 Seminole Schools can leverage the funds to purchase supplies at deep discounts.
Since opening in 2010, the free store has hosted more than 31,000 shopping visits, distributed more than $20.3 million in supplies to our students, teachers, classrooms and community including over 243,000 books and nearly 2.2 million pencils. For the 2022 – 2023 school year alone, the store distributed more than $2 million in product.
The store is funded through The Foundation and primarily supported by grants, corporate giving, individual donors and our annual supply drive every summer. Local businesses, community organizations and individuals collect thousands of schools supplies to keep the shelves stocked all year long.
For SCPS Educators
Visit The Foundation section of The Insider for additional information on all shopping options, policies, forms and other frequently asked questions.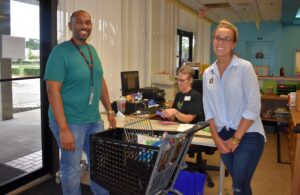 Teacher Shopping Days (Aug. – May*)
Tuesdays 1 – 6 PM
Wednesdays 1 – 6 PM
Designated Saturdays 9 AM – 1:30 PM
(Aug. 5, Aug. 26, Sept. 30, Oct. 28, Nov. 11, Dec. 16, Jan. 27, Feb. 24, Mar. 30, April 27)
Store Address: 1780 West Airport Blvd., Sanford, FL  32771
*Day and hours may vary depending on the SCPS calendar. Please call 407-320-7768 for details.
Can't make it to the store? Check out our online option where monthly shoppers can order T4SS Tool Bags online! Refer to The Foundation section of The Insider for additional information on all shopping options, policies, forms and other frequently asked questions.