Teachers often spend as much as $500 of their own money…some probably more…buying supplies for their students and materials for their classrooms. Over half of Seminole County's student population qualifies for the free or reduced meals program. The need for help is district-wide.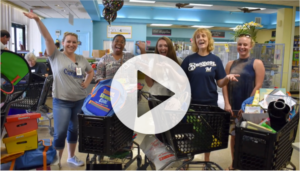 Tools 4 Seminole Schools collects and distributes school supplies and classroom materials to help alleviate this burden from teachers and low-income parents. The store has everything from pencils, notebooks, crayons and glue to tissues, socks and underwear… whatever is needed for students to be in school, ready to learn.
Teachers "shop" for free and select what they need – and what their students' need.

How You Can Help
Participate in a School Supply Drive. Our Summer School Supply Drive will run July 10 – September 10, 2023. You can host a traditional supply drive or try our virtual supply drive option. Our goal is to keep our shelves stocked all year with new school supplies, but we need support from the community.
Donate to Tools 4 Seminole Schools. Tools 4 Seminole Schools can leverage the funds to purchase supplies at deep discounts.
Since opening in 2010, the free store has hosted more than 31,000 shopping visits, distributed more than $20.3 million in supplies to our students and teachers, including over 243,000 books and nearly 2.2 million pencils. For the 2022 – 2023 school year alone, the store distributed more than $2 million in product.
The store is funded through The Foundation and primarily supported by grants, corporate giving, individual donors and our annual supply drive every summer. Local businesses, community organizations and individuals collect thousands of schools supplies to keep the shelves stocked all year long.
For SCPS Educators
Are you an eligible teacher/shopper looking to make an appointment? Click here to learn more about additional information on all shopping options, policies, and other frequently asked questions.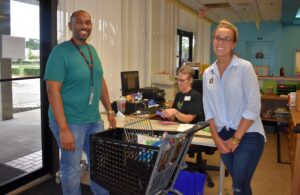 Teacher Shopping Days (Aug. – May*)
Tuesdays 1 – 6 PM
Wednesdays 1 – 6 PM
Designated Saturdays 9 AM – 1:30 PM
(Aug. 5, Aug. 26, Sept. 30, Oct. 28, Nov. 11, Dec. 16, Jan. 27, Feb. 24, Mar. 9, April 27)
Store Address: 1780 West Airport Blvd., Sanford, FL  32771
Tools 4 Seminole Schools phone: 407.320.7768