It all starts with a blank piece of paper. From there, the students at Crooms Academy of Information Technology (AOIT) had to fill in the blanks to develop their science fair projects focusing on a STEM idea/problem that needs to be solved. Sam, a junior at Crooms and incoming SECME president, participated in the Annual Crooms Academy Science Fair Competition. He stated, "A lot of what is taught in the classroom leads to other questions that there aren't always answers for," which is what led him to develop his project Producing Activated Carbon via Pyrolysis of Compost.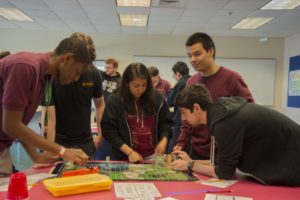 With his inquisitive mind and the confidence provided by the supplies funded through a grant from Lockheed Martin, Sam was able to win his school science fair with his project partner Gabriel. They took their project to the district and regional science fairs, and finally competed at the state level.
The Seminole County Public Schools' best practices in science model suggest that students learn best in environments that actively engage them in the scientific process and problem solving. Thanks to Lockheed Martin, The Foundation received $10,000 to support STEM education and bring real-world application to the classroom at Crooms Academy of Information Technology and Lyman High Institute for Engineering. These funds were then matched by the State Education Foundation Matching Grants Program.
Dr. Urbina from Crooms Academy was also able to integrate engineering and out of classroom educational opportunities to enhance student understanding of the Engineering and Design Process. These opportunities challenged students with a "Coaster Challenge," the "Seminole Space Science Series" and even a visit to the Science Incubator at Lake Lotus Park. Students stated that not only did the opportunities provide an outlet to put classroom concepts into practice but also learn new concepts outside of the classroom. For many, this reinforced their passion and enthusiasm for engineering.
Students at Crooms AOIT and Lyman High Institute for Engineering have had access to projects and experiential opportunities for learning that will impact their future inside and outside of the classroom. Thank you Lockheed Martin for multi-year support of STEM education in Seminole County Public Schools!