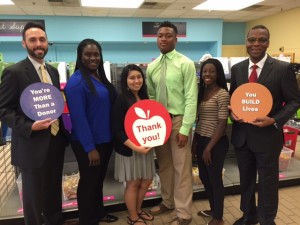 The Foundation for Seminole County Public Schools (The Foundation) would like to thank Rotary Clubs of District 6980 for their continued support and donations totaling more than $8,000 to The Foundation.
Worldwide, 67 million children have no access to education, and more than 775 million people over the age of 15 are uneducated. Rotary members support educational projects to strengthen the capacity of communities to support basic education and literacy, reduce gender disparity in education, and increase adult literacy.
Rotary District 6980 is comprised of rotary clubs throughout the five Central Florida counties. Altamonte, Lake Mary, Sanford, Seminole South, and Winter Springs Rotary Clubs collectively supported education programs of The Foundation to include:
Take Stock in Children, mentor and scholar program for at-risk youth
A Gift for Teaching – Seminole Annual Supply Drive, a free store for teachers
Young Men of Excellence, mentor and scholar program for high school African American males
ABOUT ROTARY
Rotary brings together people who want to use their skills, experiences, and expertise to solve some of the world's most pressing problems — from local initiatives like supplying local school food pantries for the poor to global efforts like  bring tablet technology to students in Fiji.