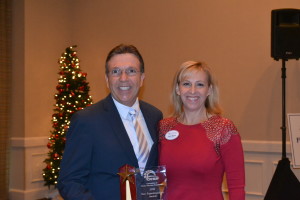 The Foundation for SCPS is proud to announce that Seminole County Public Schools (SCPS) Superintendent Dr. Walt Griffin received the 2015 STAR Superintendent Award on Dec. 3, at the 70th Annual Joint Conference of Florida School Boards Association and Florida Association of District School Superintendents held in Tampa.
The award, presented by the Consortium of Florida Education Foundations (CFEF), recognizes individuals who have shown tremendous dedication and enthusiasm in supporting the efforts of their district-wide education foundation. Local education foundations from throughout the state nominated school system leaders for the award.
Active support from a school district's superintendent is a key driver in the success of a local education foundation. Griffin's enthusiasm for The Foundation's strong partnership with the school district is a key factor in Dewey and Associates' continued ranking of The Foundation for SCPS in the top 25 education foundations in the nation.  Griffin's support has also been key in driving the growth of The Foundation.  The 2014-15 revenues were $7.7 million, a 166 percent increase over three years. He involves The Foundation's board members in two-way dialogue about issues and concerns in their schools and taps into their expertise as well.
"Superintendent Griffin is a servant leader, yet not afraid to make tough decisions for the betterment of students, teachers and the district," said Foundation Chairman Paul Cipparone. "It's a pleasure to see him as the 2015 STAR Superintendent."
CFEF is the membership organization for Florida's school district local education foundations. CFEF seeks to advance student achievement in Florida by increasing private sector investment and involvement in public education.