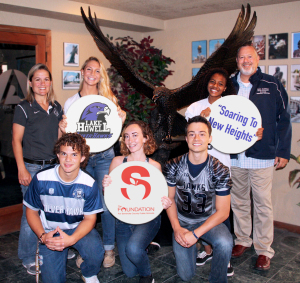 Seminole County Public Schools (SCPS) is excited to announce that The Foundation for SCPS has been awarded $4 million for Lake Howell High School (LHHS). This significant sum is the single largest donor contribution SCPS has ever received. LHHS will use the funds to enhance its academics and facilities which will provide teachers and students with an improved environment for learning.
The contribution was generously awarded by a LHHS alum, who wishes to remain anonymous, and will be used to purchase much needed school equipment as well as refurbish areas around campus in need of improvement. Improvements include: a new computer lab, a new Olympic-size swimming pool complex, artificial turf and track for the football stadium, equipment for enhancing STEM (Science, Technology, Engineering and Math) programs, as well as band and orchestra instruments. "The contribution will offer our students an enriched Triple "A" experience – Academics, Arts and Athletics – that SCPS prides itself on," says Superintendent Walt Griffin. Improvements are scheduled to be complete in December 2015.
"I'm grateful and thrilled to receive this amazing gift! We can't thank the supporter and family enough. It will have an immensely positive impact on the students, faculty, staff and the community around Lake Howell High. Our students and teachers truly benefit from continued support from the community – even if it's something as simple as volunteering time and expertise," said Frank Casillo, Principal, LHHS.