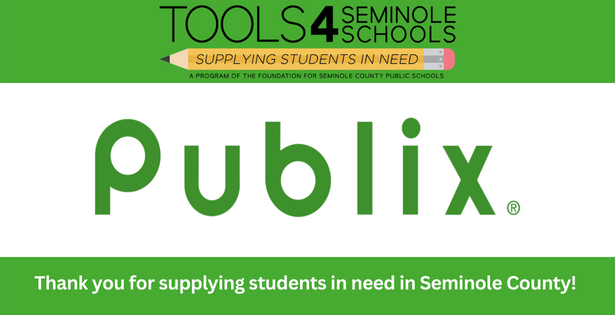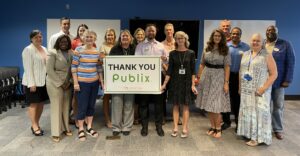 Over the summer, Tools 4 Seminole Schools (T4SS) and Publix teamed up for a Back to School Drive. We asked our community to visit any Publix location in Seminole County from July 22 to August 2nd to participate by donating to T4SS at the cash register when checking out. We are excited to announce that through this campaign our community donated over $55,000, the most raised since the campaign started in 2018. We are absolutely blown away by the support we received from you all! Thanks to Publix and supporters like you, students will receive the supplies they need to be in school, ready to learn.
About Tools 4 Seminole Schools
The Tools 4  Seminole Schools store is funded through The Foundation and primarily supported by grants, corporate giving, individual donors and our annual supply drive every summer. Local businesses, community organizations and individuals collect thousands of schools supplies to keep the shelves stocked all year long.
About the Tools for Back to School Campaign
Publix's Tools for Back to School benefits Seminole, Orange and Osceola Counties through Tools 4 Seminole Schools, A Gift For Teaching, and A Gift For Teaching Osceola, who each provide free school supplies to teachers for students in need.