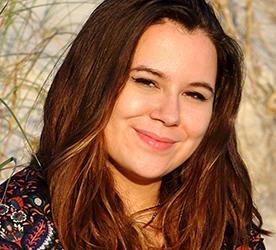 Alumni Spotlight with Tara Hagood – Paying It Forward
"I've personally gone through a lot of struggles growing up and getting through high school, and I think I have a lot of guidance to give to a student who may be going through similar circumstances – both personally and with my career experience. As a TSIC mentor, I'll be able to share a lot of knowledge with a mentee."
Like many freshmen, Tara learned a lot about time management and priorities her first year of college. Balancing work, school and a social life is hard for anyone, and Tara was no exception. Luckily, she realized her grades weren't as good as they could be and learned from her mistakes. She is on track to start her junior year in Spring 2019 at the University of Central Florida, and she credits TSIC for helping her accomplish her academic goals.
"Thanks to TSIC I was able to know how to handle my financial aid, my class loads, and come up with a good academic plan for myself. I was a lot more prepared than my friends and fellow classmates who didn't get the advising I was lucky enough to receive."
While at Crooms Academy of Information and Technology, Tara completed an unpaid internship at Wharton-Smith Construction. This opportunity turned in to a paid position in the Human Resources department where she continues to work today as the company's recruiter. An enterprising young lady, Tara puts on concerts and fundraising events as a side business. Although she loves working at Wharton-Smith, she plans on pursing a job in the non-profit sector after graduating with a Non-Profit Management degree. She also is working to fulfill her dream of launching a non-profit organization. Celebrate Life Organization opens in January 2019 to help homeless, poverty-stricken, and low-income families celebrate holidays and special occasions along with paying for things like graduation, prom and other school expenses.
Charity work has always been part of Tara's life, and she thinks becoming a mentor is the perfect way to pay forward all the TSIC program gave her. A successful TSIC graduate, college student and employee herself, we welcome Tara back to TSIC as a mentor!
Learn more about Take Stock in Children – Seminole.